Mother Lode Found
Mother Lode
Sr Site Supporter
Joined

Mar 31, 2010
Messages

150,265
Likes

40,288
Angst in America, Part 1: Aimless Men
-- Published: Tuesday, 21 March 2017
By John Mauldin
Labor Market Limits
Men Without Work
How It Starts
The Big Question: Why?
Elusive Solutions
Dallas, Washington DC, Atlanta, Augusta, and Tampa
"America was not built on fear. America was built on courage, on imagination and an unbeatable determination to do the job at hand."
– Harry S. Truman
"Unemployment is a weapon of mass destruction."
– Dennis Kucinich
"Ever since 2000, basic indicators have offered oddly inconsistent readings on America's economic performance and prospects. It is curious and highly uncharacteristic to find such measures so very far out of alignment with one another. We are witnessing an ominous and growing divergence between three trends that should ordinarily move in tandem: wealth, output, and employment. Depending upon which of these three indicators you choose, America looks to be heading up, down, or more or less nowhere."
–Nicholas Eberstadt, "
Our Miserable 21st Century
"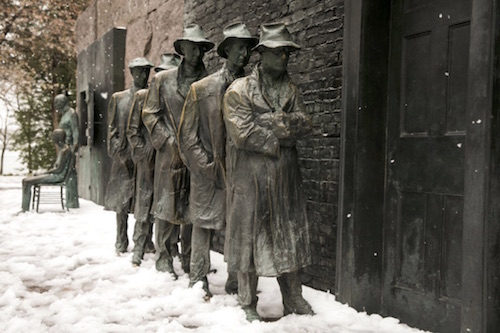 "Depression Breadline," 1991, by George Segal
Angst is "a feeling of anxiety, apprehension, or insecurity." Many of us feel it acutely right now – and that's new. Angst isn't a temporary, individual thing anymore. Now we all feel it together – or at least most of us do – and it's not at all temporary. Millions can remember feeling no other way.
There's a general sense in much of the developed world that we're headed for more difficult times. Deficits increase, unemployment rises, and the benefits of the future – or at least the future that is already here (to paraphrase William Gibson) – have been unevenly distributed throughout society. It is not just in voting patterns that you can recognize the sense of malaise. You can see it in the economic numbers and in a lot of the psychological/sociological research.
Angst manifests differently in different countries. Consider Japan:
Recent research by the Japanese government showed that about 30% of single women and 15% of single men aged between 20 and 29 admitted to having fallen in love with a meme or character in a game – higher than the 24% of those women and 11% of men who admitted to falling in love with a pop star or actor.
The development of the multimillion-pound virtual romance industry in Japan reflects the existence of a growing number of people who don't have a real-life partner, said Yamada. There is even a slang term,
"moe",
for those who fall in love with fictional computer characters, while dating sims allow users to adjust the mood and character of online partners and are aimed at women as much as men. A whole subculture, including hotel rooms where a guest can take their console partner for a romantic break, has been springing up in
Japan
over the past six or seven years.
(

The Guardian

)
Is it any wonder that there is a dearth of babies in Japan? It's hard to get pregnant when a computer avatar is your companion. Young British women are literally 20 times more likely to have a pregnancy out of wedlock than young Japanese women. The cultural oddity of
moe
partially explains that fact.
While researching this topic I came across literally scores of similarly disconcerting statistics. For instance, the difference between the income and employment status of young males who grew up in two-parent versus one-parent homes is staggering, especially when you realize how fast the number of single-parent homes – generally, though not always, led by the mother – is rising. Less than half of US children live in a traditional family setting, according to Pew Research.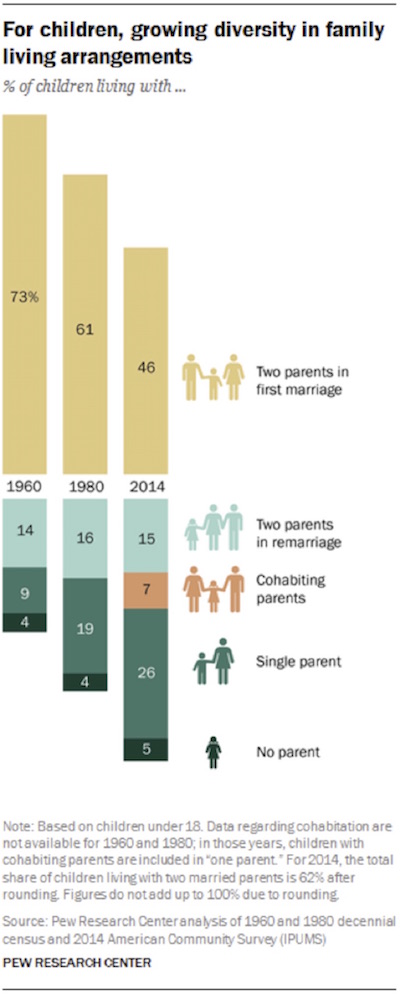 This week we begin a series of letters exploring the new economic and sociological anxiety. I want to look at what causes it and think about what we can do to ease it. I don't know how many letters this dive will take. I may break away for other topics and then come back to the topic of angst. The one thing I know, based on my own experiences with family, friends, and business associates and the feedback I get from readers, is that we have a big problem.
In his first inaugural address, Franklin D. Roosevelt famously said, "The only thing we have to fear is fear itself." In 1933 that wasn't even close to true. They had plenty to fear: The US was already in the throes of a depression that would only get worse, and war clouds were forming across the Atlantic and Pacific.
Roosevelt didn't have all the right answers, but he did one thing very well: He gave people hope. My generation heard from our parents, even decades later, how FDR helped pulled them through those hard times.
Of course, he had an important advantage today's leaders lack: Television, talk radio, and the internet weren't constantly reminding everyone how terrible things were. We didn't know or care about the intimate details of our leader's lives. Today, I am not sure even FDR himself could do what he did back then. Conditions are different now.
It is become increasingly clear to everyone that we are breaking ourselves up into tribes based on how we consume news. We consume our news from people who are generally ensconced in the same ideological bubble we are, which only reinforces our concerns and anxieties. If you think Donald Trump and Paul Ryan are taking us in the wrong direction, there are plenty of people who will agree with you and tell you so. If you think the people opposing them don't understand and are distorting the truth, there are plenty of sources that will confirm your thinking. And both sides talk/shout over the other.
We have always had polarization among our news sources (even back in colonial times), but it has never been so ubiquitous before, or so extreme; and the news has never been so readily accessible, so that numerous "tribes" can live in the same physical neighborhood yet hear different versions and interpretations of the problems and directions in our country and the world. We no longer all listen to Walter Cronkite on the radio or TV or read the local newspaper for our news. There is no unifying national experience, just a disjointed series of intra- and intertribal interactions. (This is not just a US problem, but I'm going to be citing mostly US data.)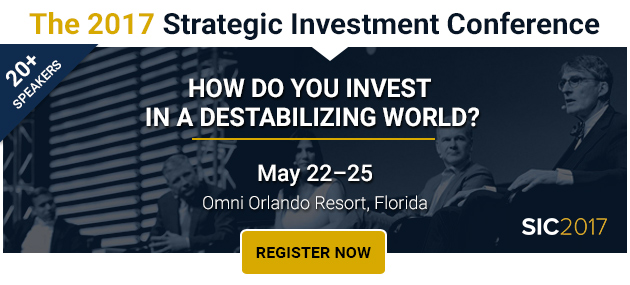 Our Miserable 21st Century
."
I will quote from that essay several times in this letter. If you take the time to read it, you should also read the pushback from my friend John Tamny, published in Forbes a few days ago, titled "
Nicholas Eberstadt, Election 2016, and Self-Flagellation by the Elites
."
2015 paper
by Anne Case and Nobel economics laureate Angus Deaton talked about a mortality trend that had gone almost unnoticed until then: rising death rates for middle-aged US whites. By Case and Deaton's reckoning, death rates rose somewhat slightly over the 1999–2013 period for all non-Hispanic white men and women 45–54 years of age – but they rose sharply for those with high-school degrees or less, and for this less-educated grouping most of the rise in death rates was accounted for by suicides, chronic liver cirrhosis, and poisonings (including drug overdoses)….
All this sounds a little too close for comfort to the story of modern Russia, with its devastating vodka- and drug-binging health setbacks. Yes: It can happen here, and it has. Welcome to our new America….
By 2013, according to a
2015 report
by the Drug Enforcement Administration, more Americans died from drug overdoses (largely but not wholly opioid abuse) than from either traffic fatalities or guns….
In
Dreamland

,
his harrowing and magisterial account of modern America's opioid explosion, the journalist Sam Quinones notes in passing that "in one three-month period" just a few years ago, according to the Ohio Department of Health, "fully 11 percent of all Ohioans were prescribed opiates…."
[N]early half of all prime working-age male labor-force dropouts – an army now totaling roughly 7 million men – currently take pain medication on a daily basis.
Geopolitical Futures Conference
. I am really looking forward to this gathering, and I think there are a few spots left. Geopolitics specifically and politics in general have become more important than ever to our future in investing. I don't particularly like that reality, but I have to live and invest in it.
I will go from DC to an evening in Atlanta before making my way to Augusta, Georgia, where Shane and I will be the guests of good friends at the Masters. I haven't had much time for golf in the past few years, but I have always wanted to watch the Masters live on Saturday and Sunday with people who can make sure that I get to see the action, and on the most beautiful and storied golf course in the world.
I fly the next day for Tampa, where I will be in meetings with my friend Patrick Cox as some of his cutting-edge biotech friends come in to give us insights on their latest research. I don't know how Patrick finds some of these researchers and gets in contact with them. Many of them are quite famous, but for whatever reason he seems to be able to get on the inside and tease information from them and share it. Some of the things they are discovering about the potential for postponing the ravages of aging are truly astounding, and I feel that I simply have to take a day out to absorb some of the latest and greatest developments. We do live in interesting times.
It is with more than a little nostalgia that I note the passing of Chuck Berry at age 90. Yes, I drove around in my car with no particular place to go, listening to his music. He was the true father of rock 'n' roll and inspired later generations of musicians from the '60s and '70s – some of the most famous bands of that era covered his music, including the Beatles, the Rolling Stones, the Beach Boys, and so many others.
Many of us know his music, but not that many know his story. He spent some time in reform school, where he actually formed a quartet that was allowed to perform outside of the prison. He made two more trips to prison in his life. I add that note in the context of our discussion about the 20,000,000 felons we have here in the US. Think about how much poorer the world would be if Chuck Berry had not been able to make it just because he had a felony record.
Go to Google and type in "YouTube Chuck Berry." Start with "Maybelline" and "Johnny B. Goode," and then keep going. Chuck had dozens of hits, and the amazing thing is, he wrote his own material. What I did not expect to find was a
jam-session concert
, evidently at the Rock 'n' Roll Hall of Fame, with Chuck Berry, Little Richard, and Jerry Lee Lewis. Then I noticed that the backup band was a young Bruce Springsteen and the E Street Band – and oh my God, there was Stevie Ray Vaughn!
As I hit the send button today, I fantasize about that moment in the future when an alien culture intercepts the Voyager satellite that we sent into space during Jimmy Carter's presidency. They listen to all the sounds and read our science and literature and then come to the music, where they appreciate the majesty of Bach and Beethoven; but it is the one rock 'n' roll song, Chuck Berry's "Johnny B. Goode," that makes them decide to come visit our planet. Yes, I still think it's rock 'n' roll music forever. RIP, Chuck Berry.
And with that, you have a great week. And if you're of a certain era, let yourself get a little nostalgic kicking around on YouTube listing to Chuck Berry and all the other rock 'n' roll greats. Sometimes you have to feed the soul.
Your thinking he should listen to more music analyst,

John Mauldin
subscribers@MauldinEconomics.com
http://news.goldseek.com/GoldSeek/1490105100.php