Hunter of Chin Li's Boo Hoo Flu
Founding Member
Board Elder
Site Mgr
Midas Supporter ++
Joined

Mar 25, 2010
Messages

32,602
Likes

47,202
Commercial Property Boom Forecast to End, With Canada Hit Hard
Katia Dmitrieva
katiadmi
January 13, 2016 — 3:00 PM CST
Is Canada's Commercial Property Boom About to End?
Canadian office vacancies to surge, Avison Young reports
`The next step is down -- it has to be,' brokerage's CEO says
The global boom in commercial real estate may be over, with Canada hit hardest.
The surge since the financial crisis -- marked by record property
values
and
expanding
foreign ownership of offices, malls and warehouses -- shows signs of waning, led by a slowdown in Canada, Avison Young said in a report Wednesday. The nation's office vacancies are likely to climb to 12.2 percent this year, up from 10.6 percent last year, amid the construction of 20 million square feet (1.9 million square meters) across the country.
"We're at a peak. I don't think we're getting any higher," Mark E. Rose, chief executive officer of Toronto-based Avison Young, said in a phone interview. "The next step is down -- it has to be."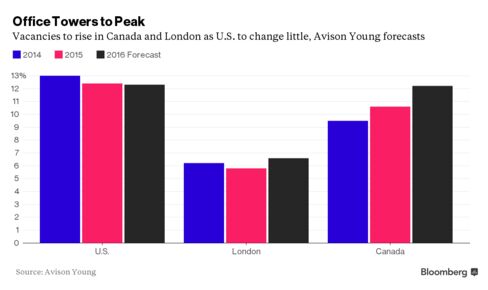 The oil slump, shrinking tenant demand, debt-burdened consumers and overbuilding will crimp growth in Canada's real estate market, the company forecasts. A slowdown would follow years of investor fervor for commercial property that's pushed prices up and yields down to
all-time
lows in some areas. Avison Young's report focused on real estate trends for 55 regions across Canada, the U.S. and the U.K. London office vacancies probably will rise to 6.6 percent from 5.8 percent, and in the U.S. they're likely to be little changed at 12.3 percent, according to the firm.
Low Rates
Monetary policy from Canada to Japan has kept borrowing costs at record lows globally, helping fuel real estate purchases. Moves by the U.S. Federal Reserve to raise interest rates signal increases in other countries as well, which will lead to fewer transactions as it gets pricier to finance deals, Rose said.
"Will it change pricing? Yes," he said. "Whether it happens in the first quarter of '16 or the first quarter of '17, a lot of it has to do with increases in interest rates."
Western Canada will bear the brunt of the pain, even amid continued low interest rates in the country. The region's real estate market, which had soared along with its energy sector, is slowing with oil prices down. Calgary, the largest city in Alberta, has 6.5 million square feet of office space under construction, 33 percent of the nation's total, just as businesses are cutting jobs and leasing, Avison Young said.
In other parts of the country, companies are shrinking their office space as technological advancements allow more people to work from home. Record consumer-debt loads are likely to slow sales at malls, while industrial buildings are forecast to benefit from the Canadian dollar being at a 12-year low and the potential for increased exports, according to the real estate firm.
http://www.bloomberg.com/news/artic...rty-boom-forecast-to-end-with-canada-hit-hard