The man who saved his wife, daughter and 30 other strangers from an armed robber, was shot and later arrested by police—even though he complied and put his hands in the air as soon as they arrived.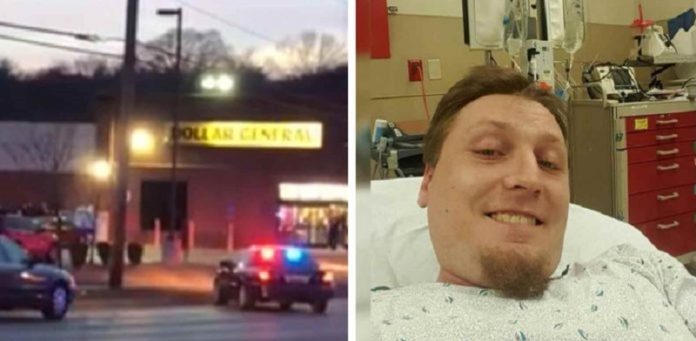 March 1, 2018
It happened in Independence, Missouri when a man saved his wife, daughter and thirty other people from a potential shooting
, where the hero dropped his weapon, raised his hands, and the police promptly shot him after saving those people. Now it's happened with
another potential mass shooting in Texas
.
As news of the tragic
shooting in Parkland
, Florida dominated the airwaves this week, a massive hostage situation—which was quickly turning into a mass shooting situation—was foiled by a hero in a church. That hero, however, is now in the hospital after police showed up to the scene and shot
him
.
The situation was well on its way to becoming one of the deadliest shootings in history as the gunman took over 100 people hostage inside the Faith City Mission church on Wednesday.
"They said there was a gun in the building everyone started running all different ways," said Clay Murdock, a student at Faith City Mission.
According to
WLOX
, Murdock said he tried to get as many people inside their sound room as possible.
"We're standing in there and everyone starts praying," said Murdock. "I went outside to see what was going on if I could get more people in there and right when as I went outside the guy was standing right in front of me with the pistol."
According to the Amarillo police, the initial call came in around 8:45 a.m. and indicated that there was an armed suspect inside who was holding 100 people hostage.
Sergeant Brent Barbee told reporters that when officers breached the building, they encountered an individual who had a handgun.
"
The officers fired shots that struck the man
," said Barbee. "
After some additional investigation, they've learned that the man that [had] the gun may have taken the firearm away from the original suspect in the call
. The man who originally had the gun has been taken into custody."
Later that day, police clarified that they indeed shot the wrong man.
http://www.newschannel10.com/story/37504096/faith-city-shooting-investigation-in-early-stages