для продажи слегка подержанный
Founding Member
Board Elder
GIM Hall Of Fame
Joined

Mar 25, 2010
Messages

33,672
Reaction score

55,259
How Systems Break: First They Slow Down
Charles Hugh Smith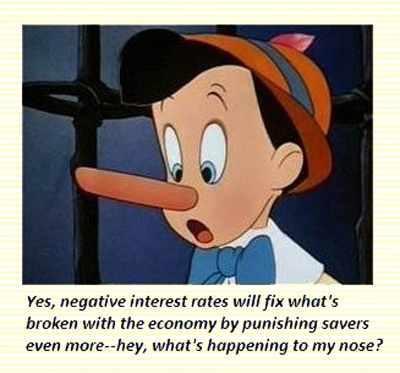 Alternatively, we can cling to a state of denial, and the dominant system will be replaced by arrangements that are not necessarily positive.
The reality that cannot be spoken is that all the financial systems we believe are permanent are actually on borrowed time. One way we can judge this decline of resilience is to look at how long it takes systems to recover when they are stressed, and to what degree they bounce back to previous levels.
Another is to look at the extremes the system reaches without returning to "normal": for example, interest rates, which rather than normalizing after seven years of suppression are being pushed to negative rates by increasingly desperate central bankers.
The key insight here is that financial systems and indeed economies function as natural systems. Central planning/central banker manipulation appears to control the system, but this control masks the reality that the system is increasingly fragile and prone to collapse, not just from internal dynamics but as a direct result of central bank manipulation.
The warning signs of fraying resilience are all around us.
Nature's Warning Signal:
Complex systems like ecological food webs, the brain, and the climate all give off a characteristic signal when disaster is around the corner.
"The signal, a phenomenon called 'critical slowing down,' is a lengthening of the time that a system takes to recover from small disturbances, such as a disease that reduces the minnow population, in the vicinity of a critical transition. It occurs because a system's internal stabilizing forces—whatever they might be—become weaker near the point at which they suddenly propel the system toward a different state."
Recent email exchanges with correspondent Bart D. (Australia) clued me into the Darwinian structure of this critical slowing down and loss of snapback (what we might call a loss of reslience).
The dominant systems do not operate in a vacuum; beneath the surface dominance of one system are many other systems that are suppressed by the dominant system.
As the dominant system weakens/slows down, these largely invisible systems quickly expand to occupy more of the ecosystem. An example in the financial realm is barter: in a system dominated by central bank/state issued money and digital transactions, barter still exists but on a very modest scale.
When central bank/state currency loses its value and utility (due to devaluation of the currency, hyper-inflation, etc.), then barter expands rapidly to fill the vacuum left by the demise of the dominant system.
The ecosystem example illustrates is how critical transitions occur: as the dominant system slows down, other systems fill the ecosystem niches that are opened up by the weakness of the dominant arrangement. At some point, the equilibrium of the ecosystem is disrupted and a new balance of other dynamics become dominant.
In the realm of currencies, the rise of crypto-currencies is an example of a nascent new system gaining ground as the dominant system slows/decays.
In financial systems, this process can be at least partially conscious: we can see the dominant paradigm weakening, and start developing other systems that can compete for the coming openings in the financial/social ecosystem.
Alternatively, we can cling to a state of denial, and the dominant system will be replaced by arrangements that are not necessarily positive. Conscious development of alternatives that can compete transparently for dominance as the status quo decays is the most effective avenue to more resilient, sustainable systems.
This essay was drawn from Musings Report 2016-3. The Musings Reports are emailed weekly exclusively to subscribers and major contributors ($5/month or $50/year).

At readers' request, I've prepared a biography. I am not confident this is the right length or has the desired information; the whole project veers uncomfortably close to PR. On the other hand, who wants to read a boring bio? I am reminded of the "Peanuts" comic character Lucy, who once issued this terse biographical summary: "A man was born, he lived, he died." All undoubtedly true, but somewhat lacking in narrative.
I was raised in southern California as a rootless cosmopolitan: born in Santa Monica, and then towed by an upwardly mobile family to Van Nuys, Tarzana, Los Feliz and San Marino, where the penultimate conclusion of upward mobility, divorce and a shattered family, sent us to Big Bear Lake in the San Bernadino mountains.
The next iteration of family took us to the island of Lanai in Hawaii, where I was honored to join the outstanding basketball team (as benchwarmer), and where we rode the only Matchless 350 cc motorcycle on the island, and most likely in the state, through the red-dirt pineapple fields to the splendidly isolated rocky coastline. In 1969-70, this was the old planation Hawaii, where we picked pine in summer beneath a sweltering sun.
We next moved to Honolulu, where I graduated from Punahou School and earned a degree in Comparative Philosophy (i.e. East and West) at the University of Hawaii-Manoa. The family moved back to California and I stayed on, working my way through college apprenticing in the building/remodeling trades.
I was quite active in the American Friends Service Committee (Quakers) and the People's Party of Hawaii in this era (1970s).
I next moved to the Big Island of Hawaii, where my partner and I built over fifty custom homes and a 43-unit subdivision, as well as several commercial projects.
Nearly going broke was all well and good, but I was driven to pursue my dream-career as a writer, so we moved to the San Francisco Bay Area in 1987 where I worked in non-profit education while writing free-lance journalism articles on housing, design and urban planning.
Within a few years I returned to self-employment, a genteel poverty interrupted by an 18-month gig re-organizing the back office of a quantitative stock market analyst. I learned how to lose money in the market with efficiency and aplomb, lessons I continue to practice when the temptation to battle the Monster Id strikes.
Somewhere in here my first novel was published by The Permanent Press, but alas it fell still-born from the press--a now monotonous result of writing fiction. (Seven novels and I still can't stop myself.)
I started the Of Two Minds blog in May 2005 as a side project of self-expression, and in an unpredictable twist of evolutionary incaution, that project has ballooned into a website with about 3,500 pages that has drawn almost 20 million page views.
The site's primary asset may well be the extensive global network of friends and correspondents I draw upon for intelligence and analysis.
The blog is #7 in CNBC's top alternative financial sites, and is republished on numerous popular sites such as Zero Hedge, Financial Sense, and David Stockman's Contra Corner. I am frequently interviewed by alternative media personalities such as Max Keiser, and am a contributing writer on peakprosperity.com.
www.oftwominds.com
http://www.silverbearcafe.com/private/04.16/break.html