Gold Member
Gold Chaser
Sr Site Supporter
Joined

Jun 25, 2013
Messages

3,215
Likes

3,525
Location
To start with I ain't a professional meat cutter or butcher of any sort. What I'm posting here is just our way of being prepared for any survival situation and mostly is just the way we live. I ain't saying any of the following is the right way but it is my way and the way I teach young folk or old folk who want to help. For this project I had 3 16 year old's who had never done it before as helpers, I was totally impressed with the way they dug right in. If you can take something from this I'll be happy as I never learned any of this from the internet but by hands on with mistakes over the years.
In order to put good meat on the table we raise our own with no growth hormones or medications. We do give the hogs coal to chew on in order to fight worms and they do sound funny crunching on it.
At the start of the session you wanna start with well rested and unexcited hogs. These are raised outside so they actually grow hair.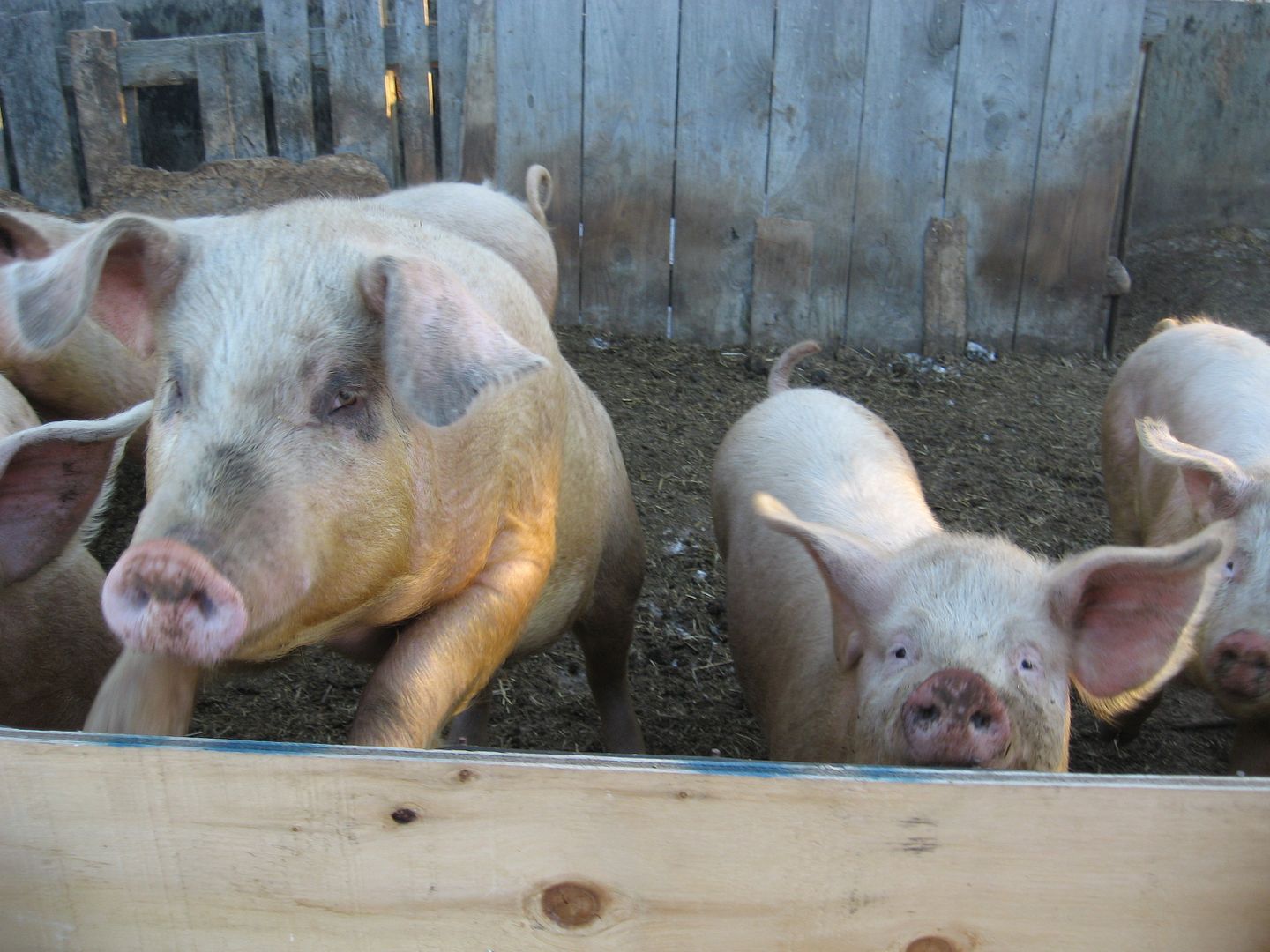 As I see no reason to show the killing and sticking I won't but here is one leaving the pen on a tractor I bought 16 years ago for $2,227 from the local MD.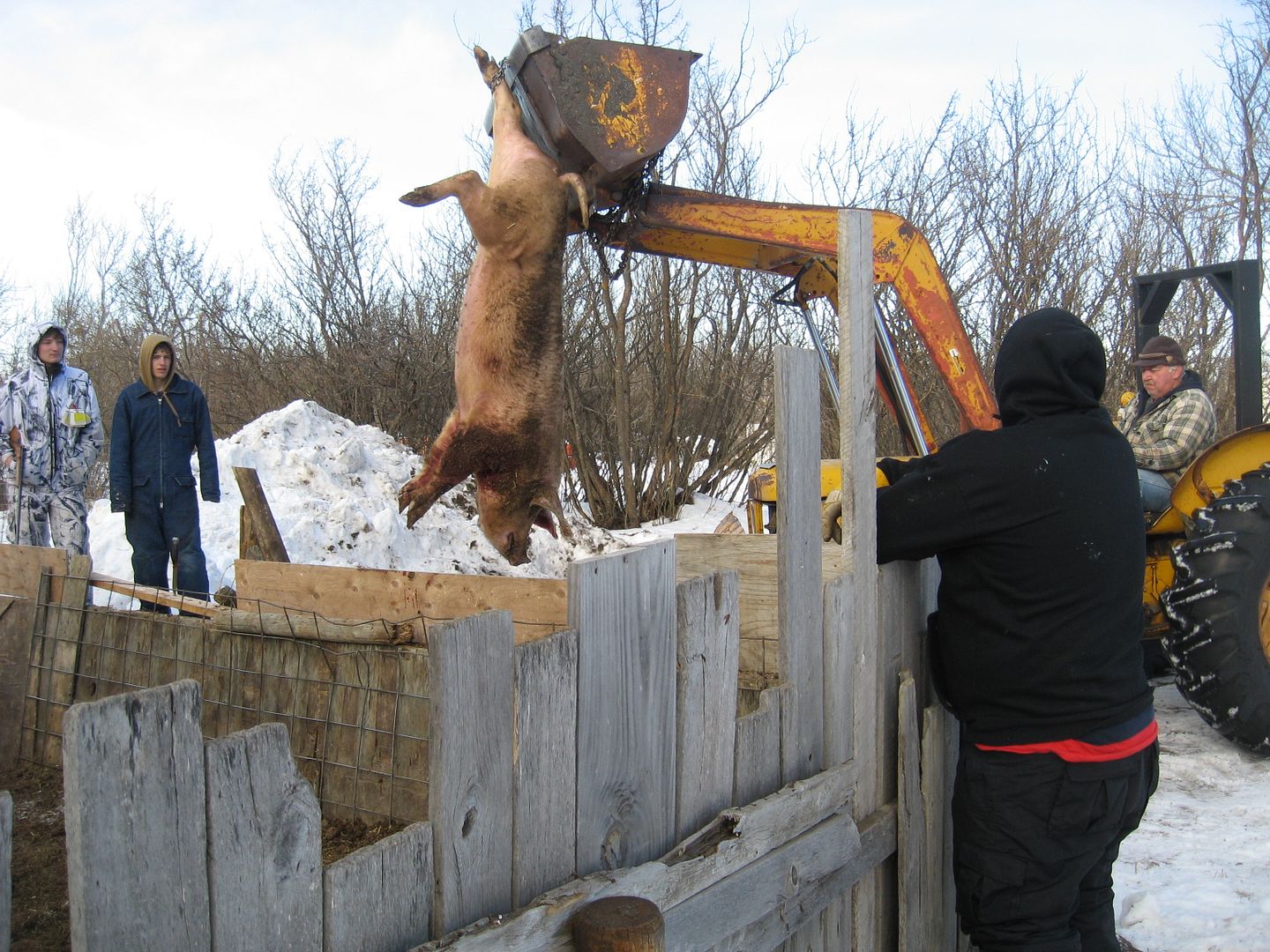 From here it's over to a hot bath to make scraping easier, the water has a can of ash's from the wood stove added to kinda/sorta make lye in order to help cut through the outer layer of skin. Notice the high tech water heating equipment.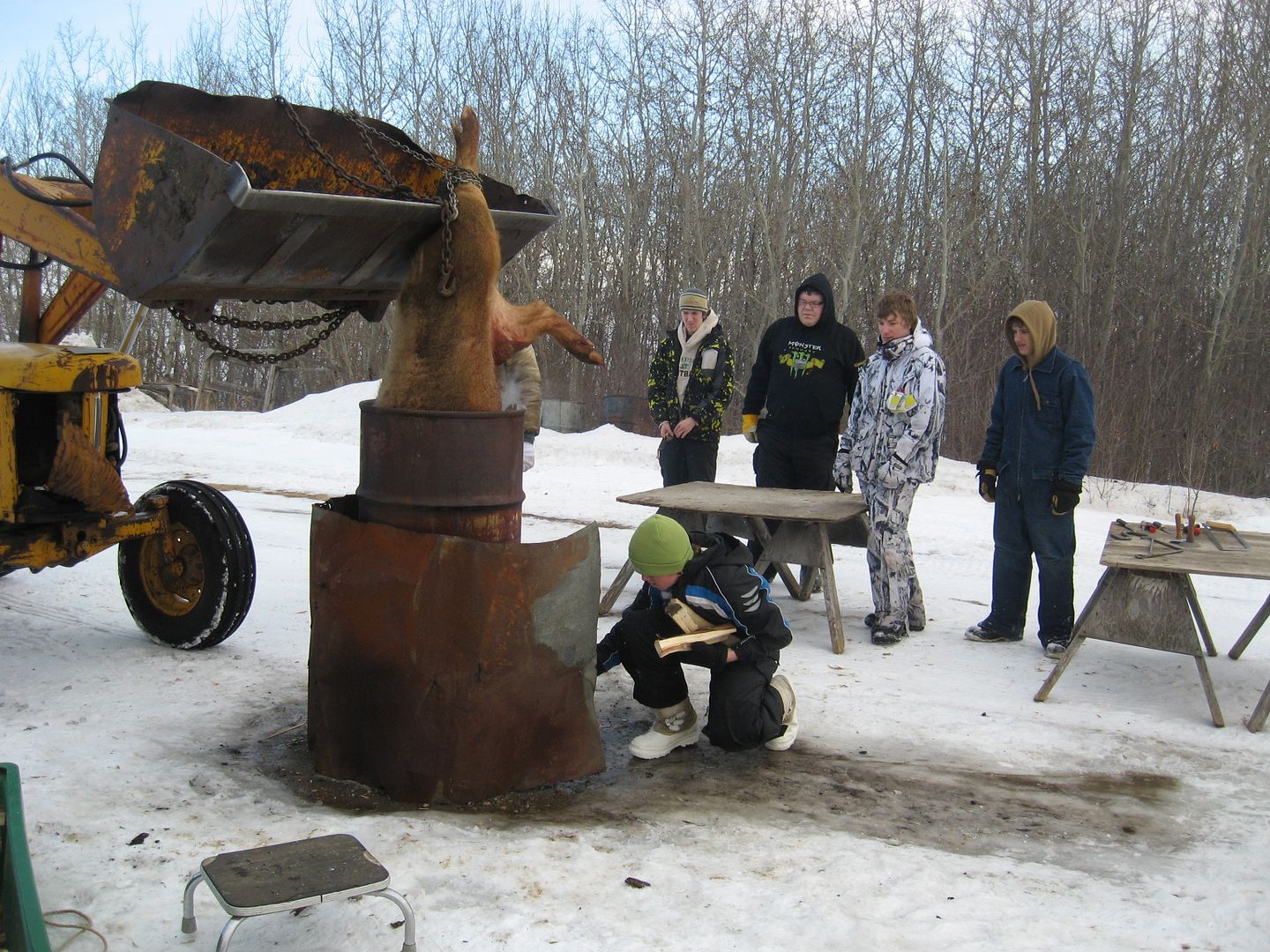 Then the lads[3 are ours] jumped into action with a zest I wasn't ready for but appreciated.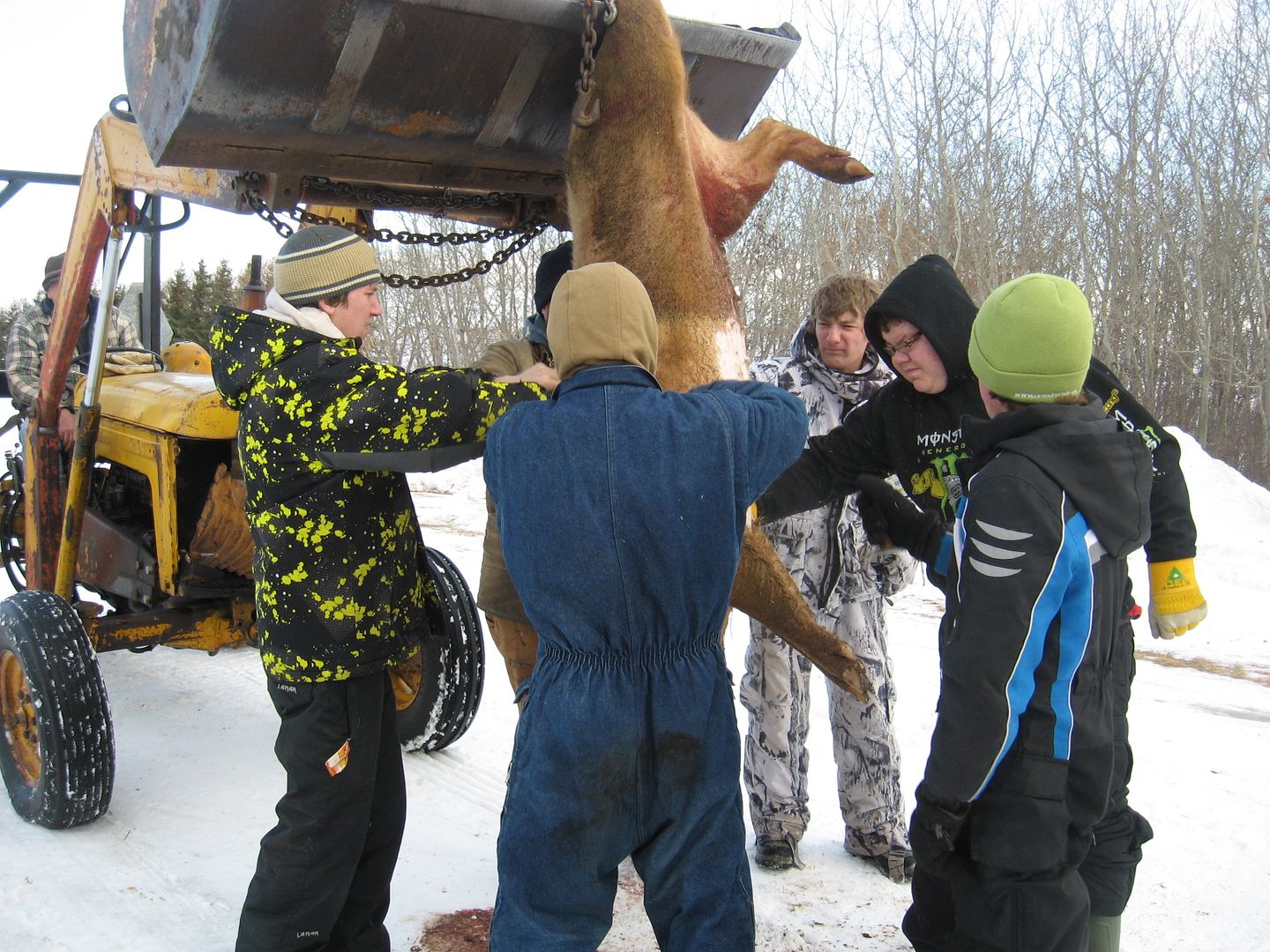 4 minutes by my count and they were to this point.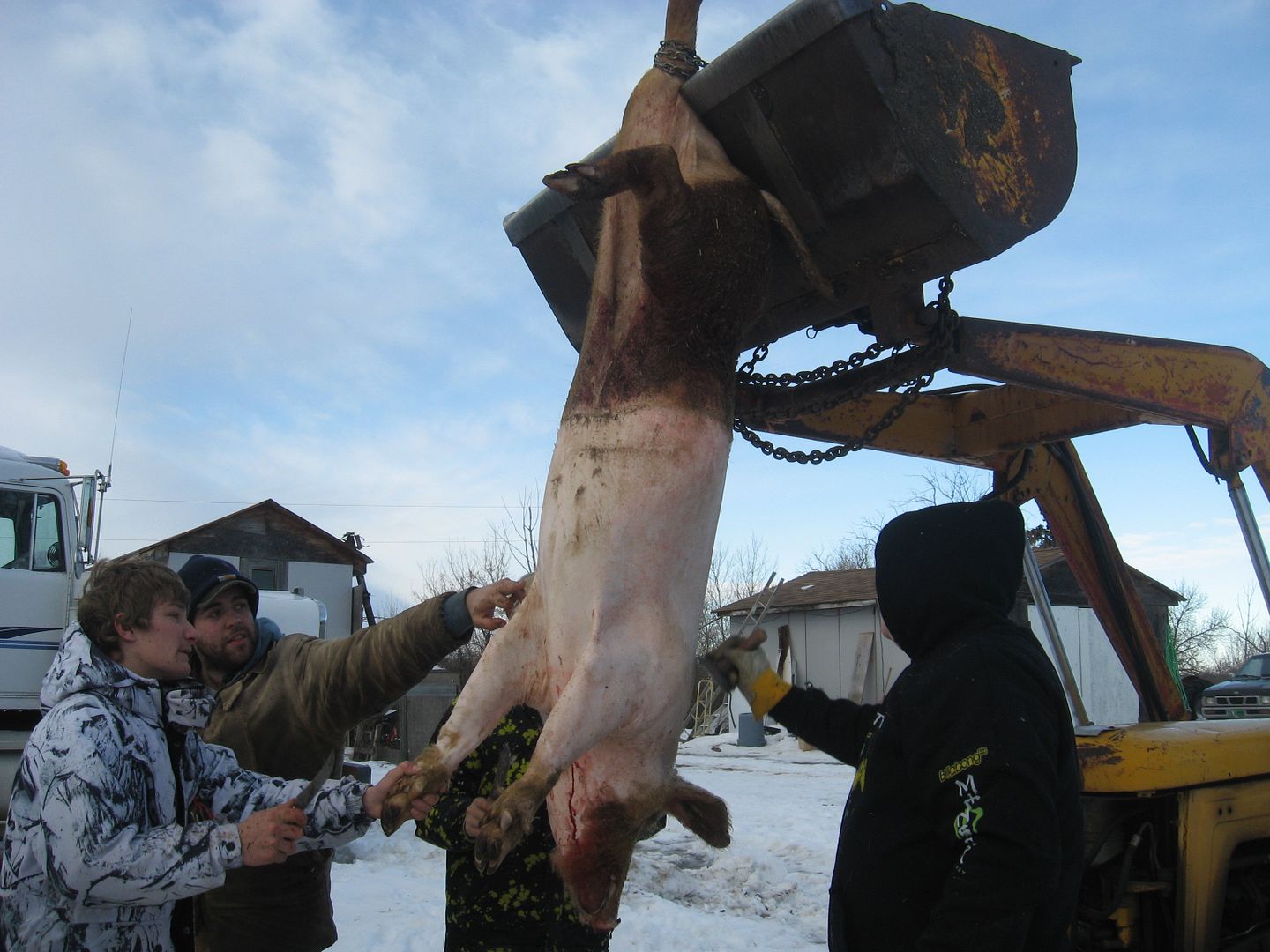 Flipping said hog over for the other end to get bathed[Barrel is to short and I'm to cheap to get a bigger one].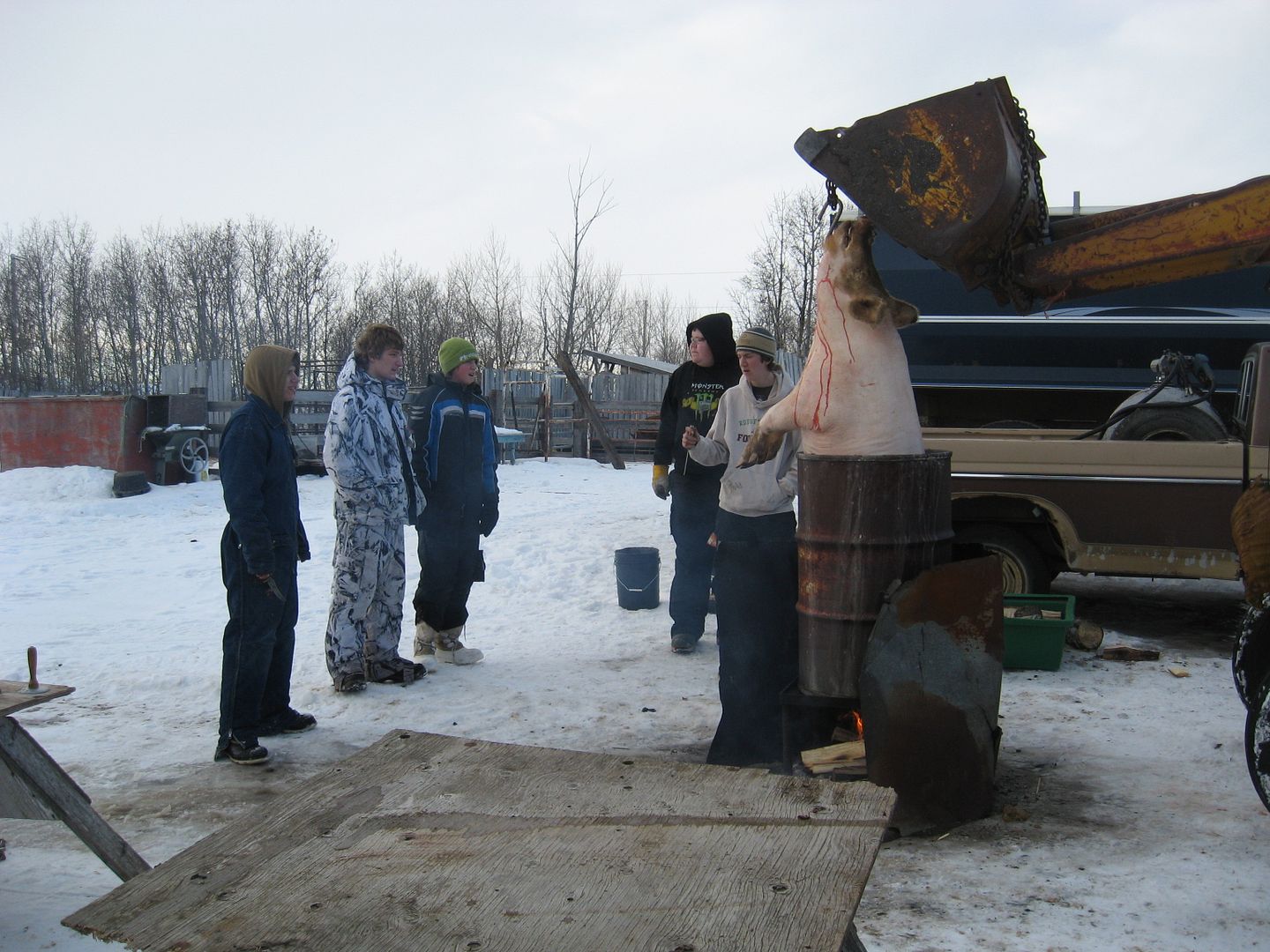 Every lad got to take a leg off at the joint with a knife so they know how it's done.[I detest pig feet so I can throw them to the dogs].
With no guillotine we resort to a knife and saw.
They then figure out how far up to split the brisket without hitting the innards.[This is a great lesson]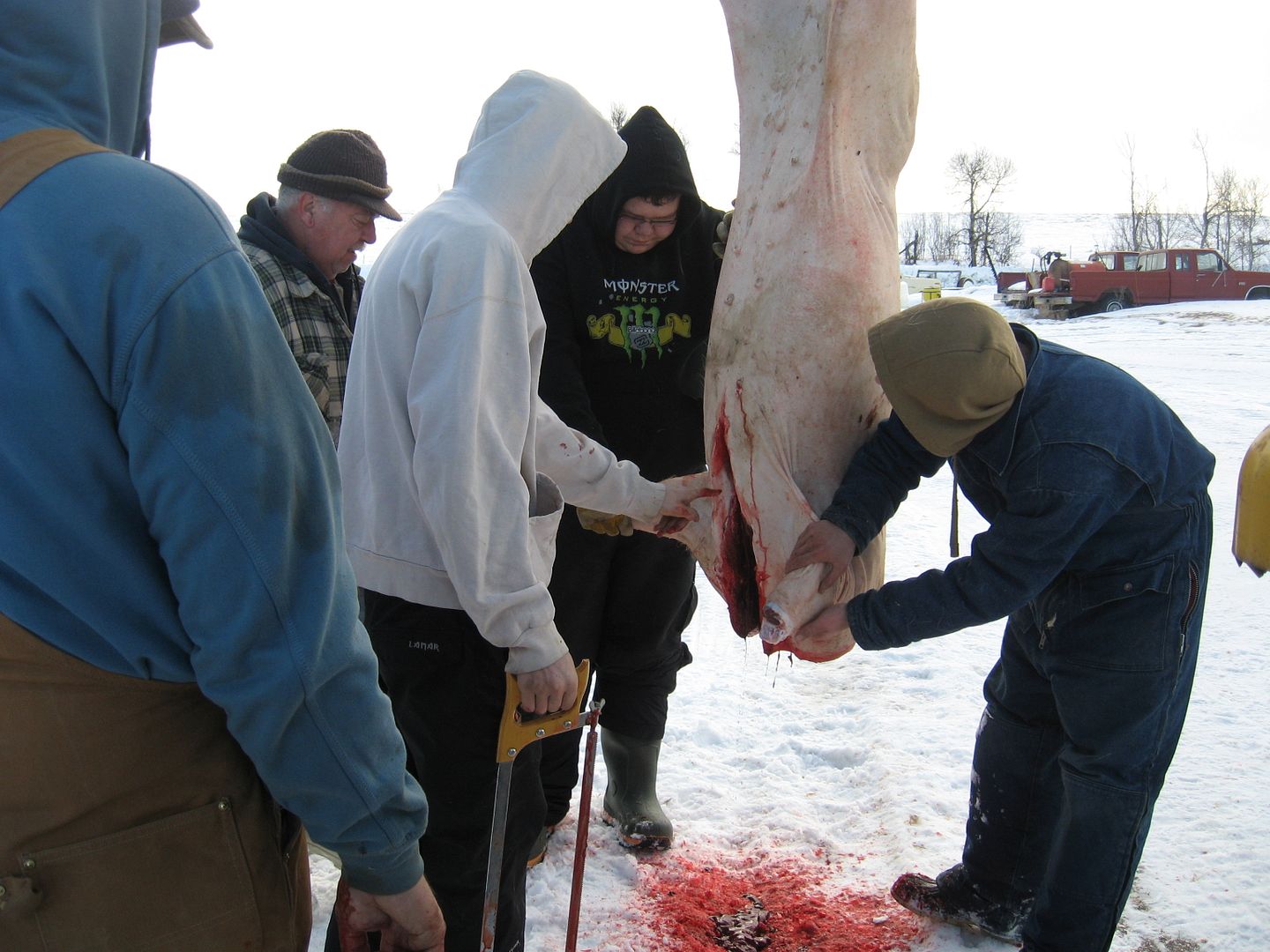 They learn how to cut around the anus and laugh embarrassingly at the female jokes.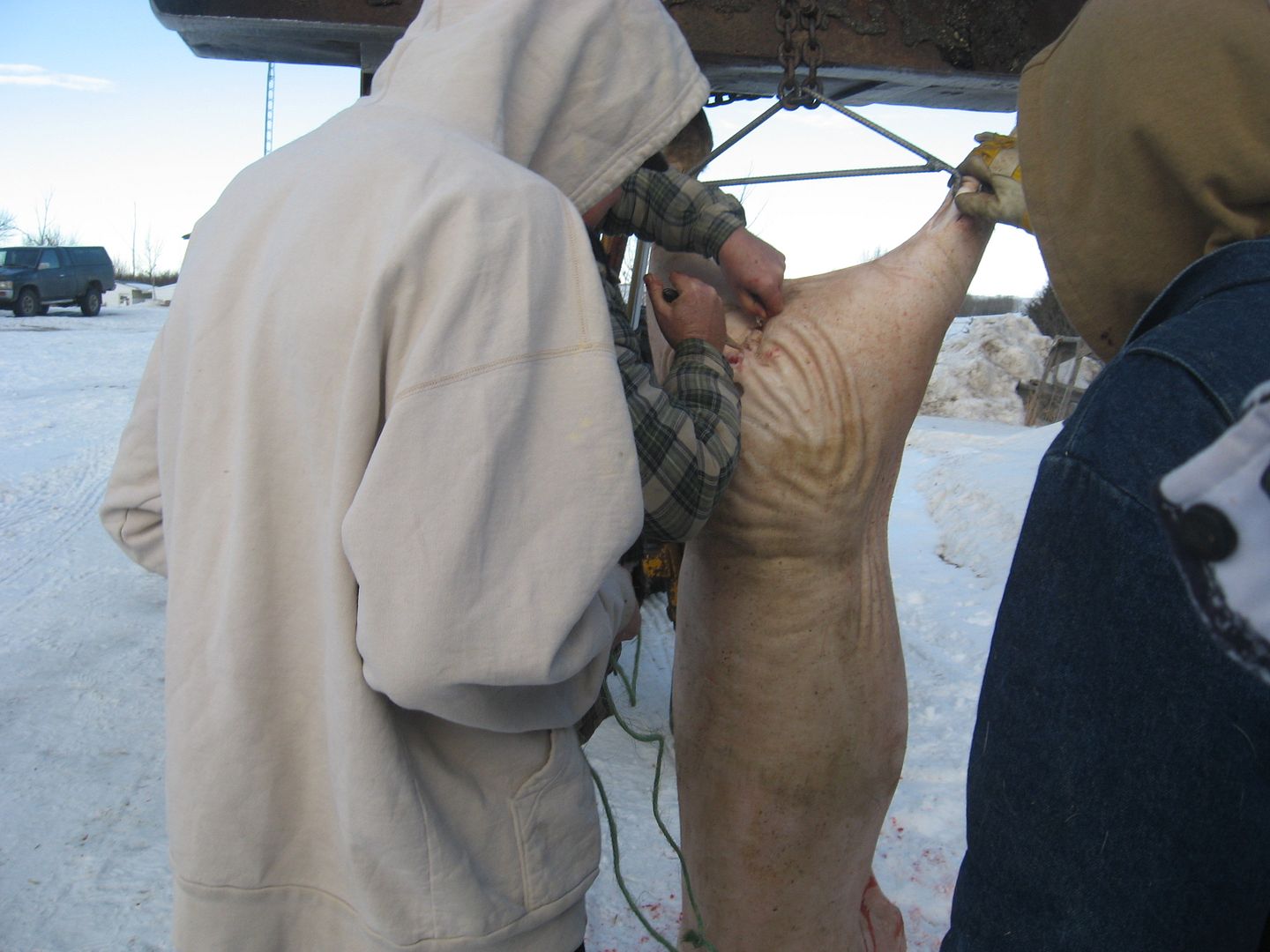 Out comes the innards [wife didn't get a pic of the liver and heart and thanks to that and my mouth I'll be enjoying popcorn on the couch tonight].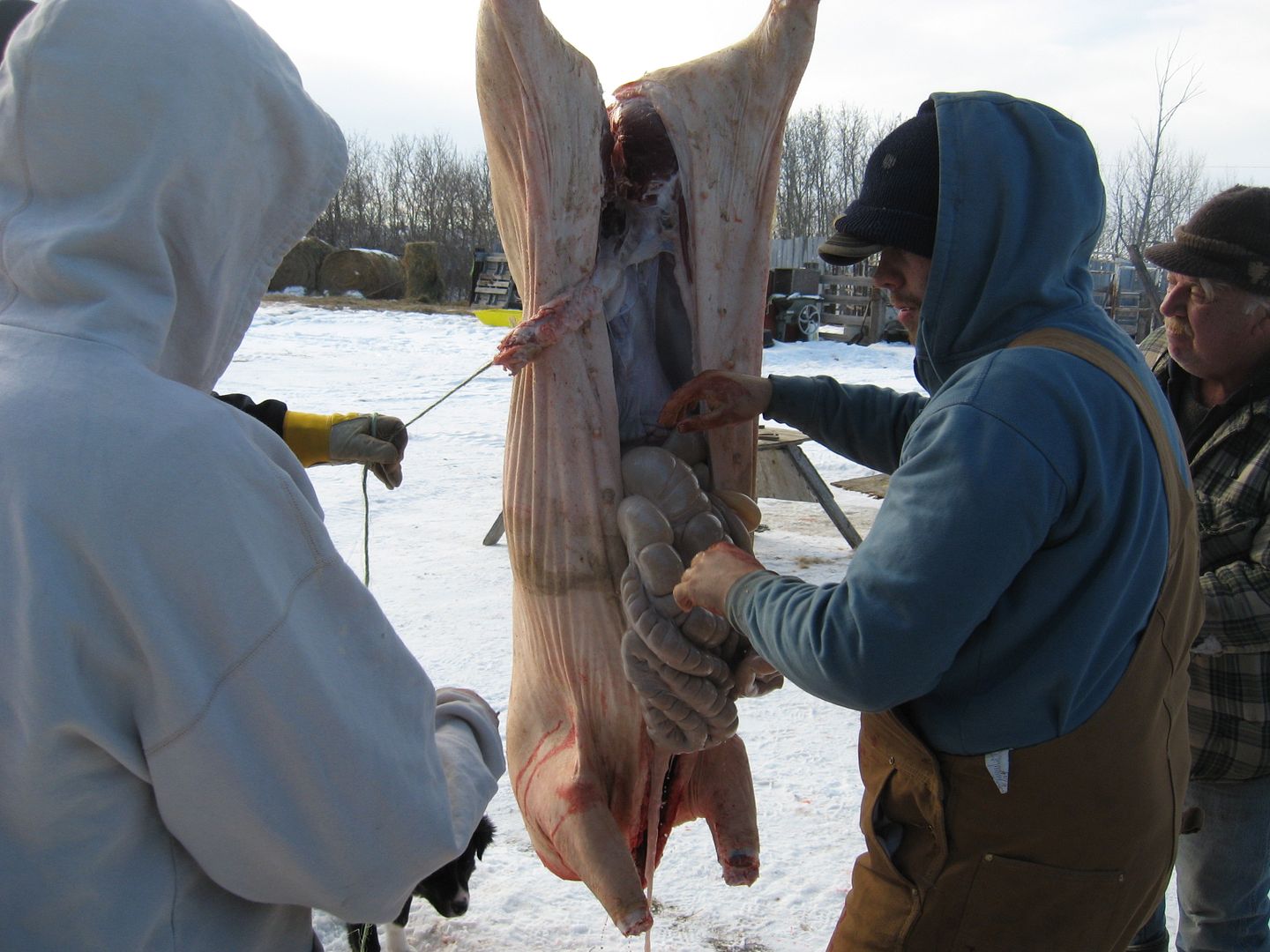 We check the spleen for a forecast on the silver trends for the year[actually it is a way of telling how the winter will go but I figure it is a much better PM forecaster].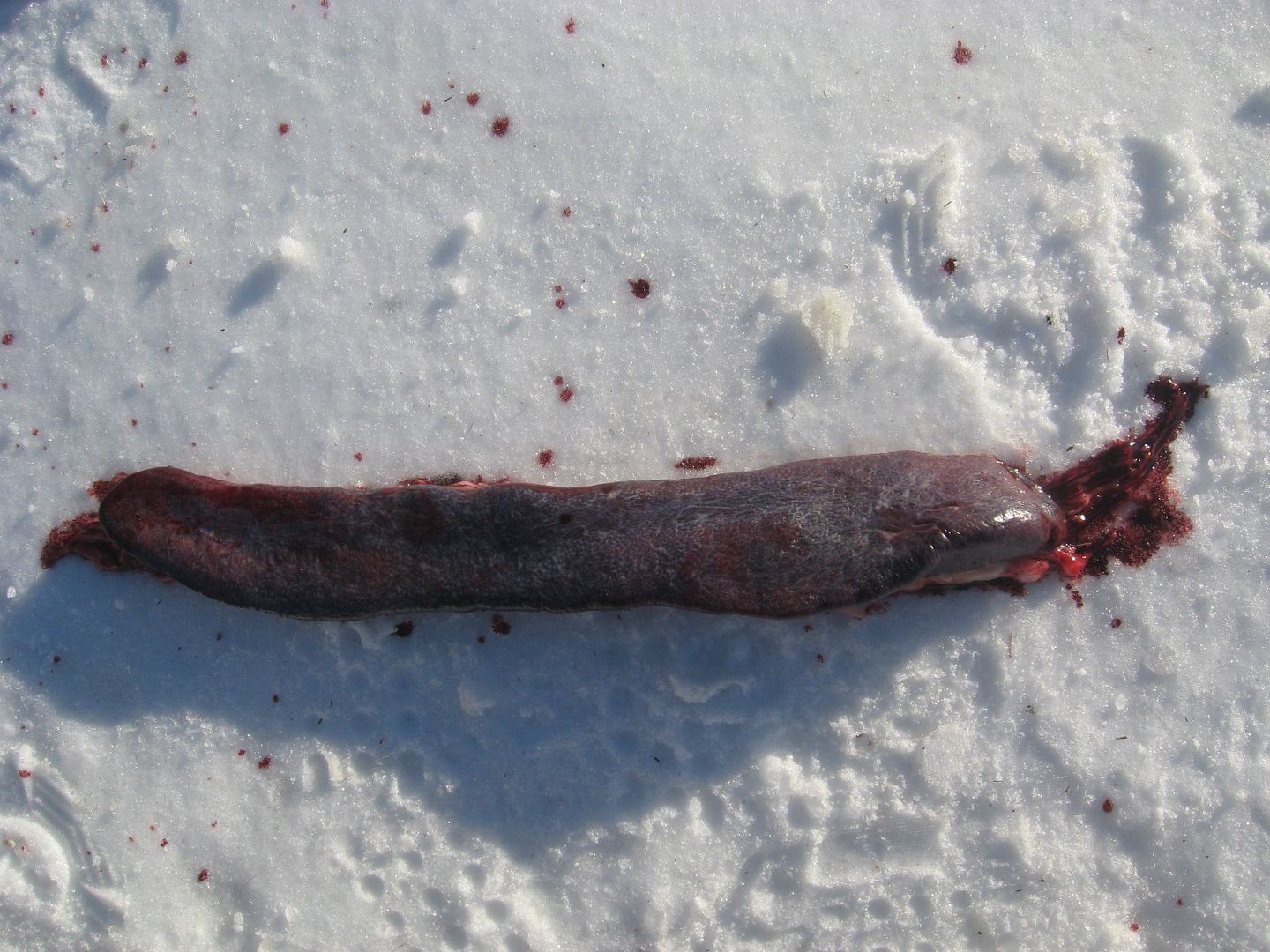 Next the small intestines are harvested for making sausage.
Then the 12 year old wash's the carcass prior to splitting.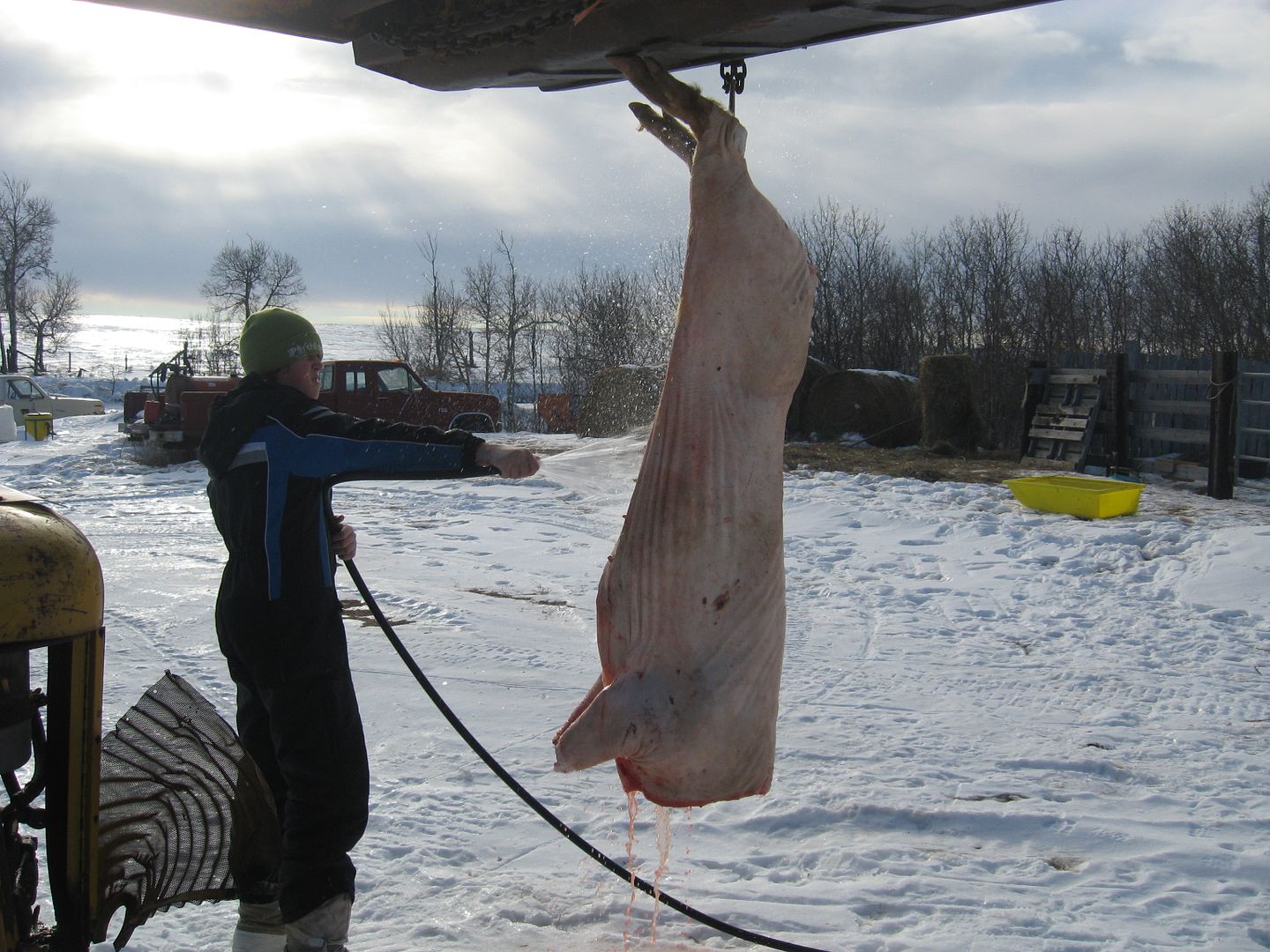 Splitting is easy with a saw a fellow found in the dump and sold to me for $20[I had to put on a new cord] and the first time I used it my BIG Swedish neighbor smiled so hugely as it went through a 1,400 lb beef in 26 seconds. He always got the job of running the hand saw and immediately loved this Jarvis wellsaw 444.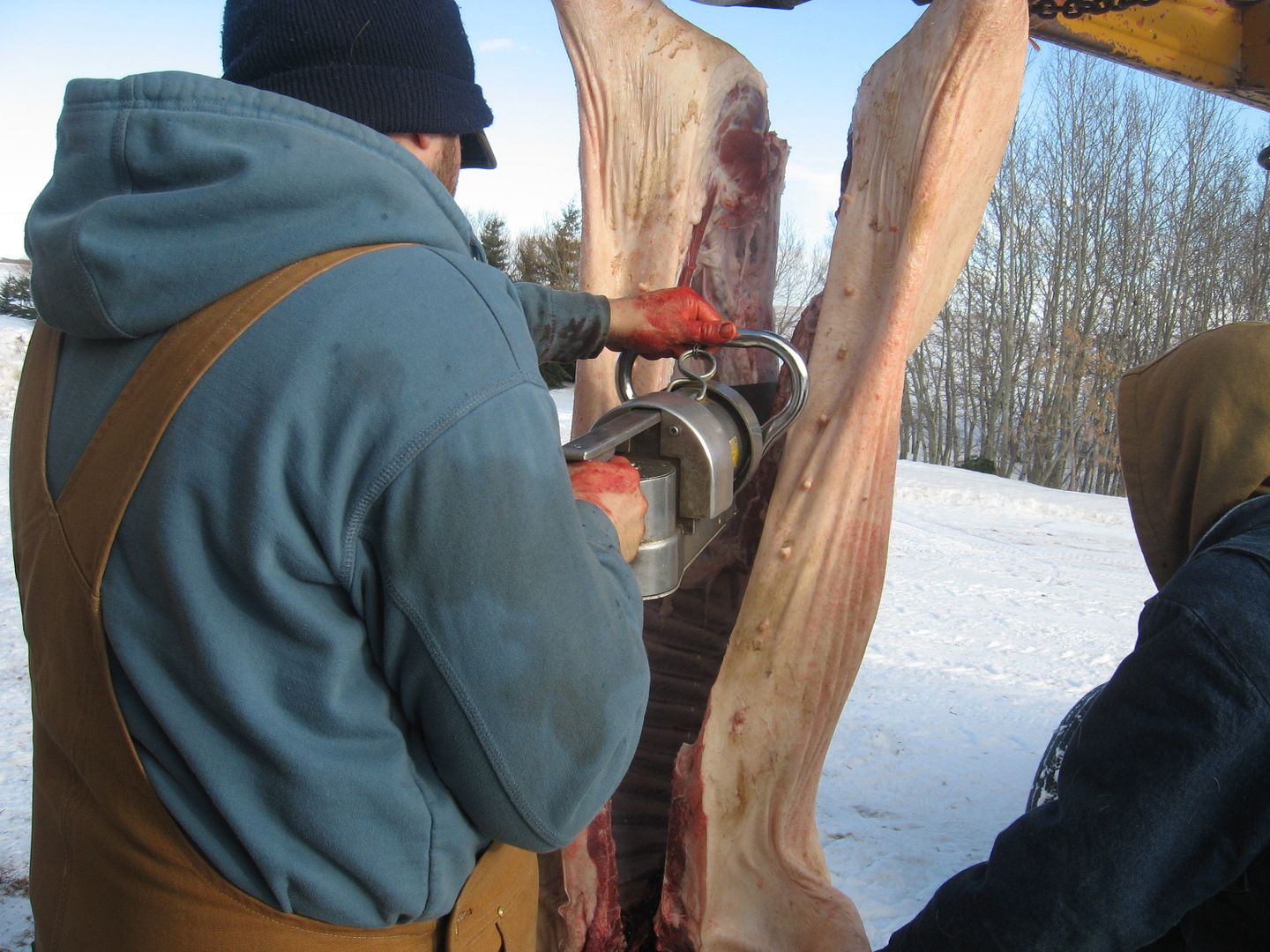 The smallest of the 16 year old's and the one who had never been around any kind of butchering grabbed a half to take in for hanging[Impressed the [L] outta me I can tell you.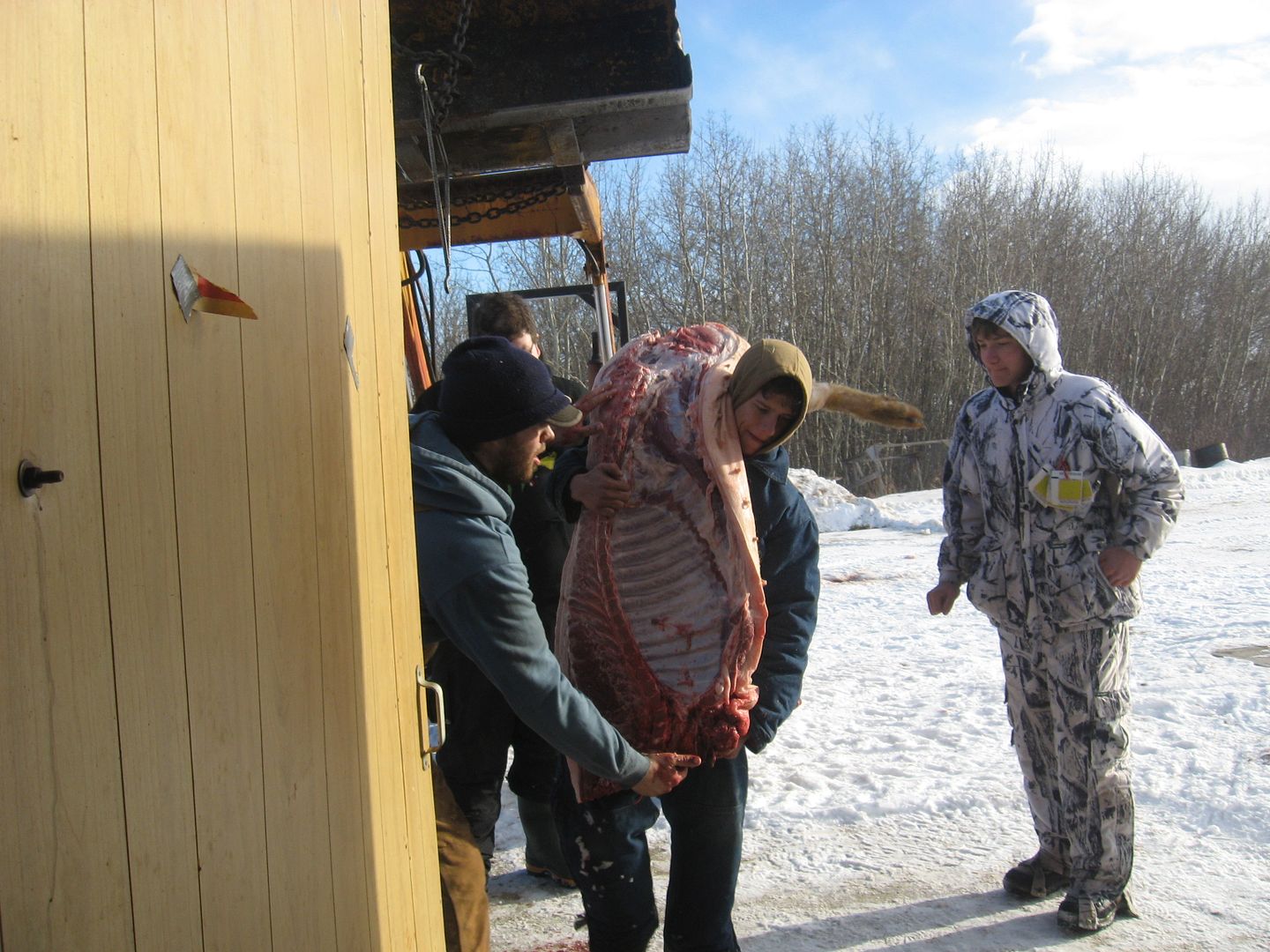 The pork will hang until Tuesday[I think it will take that long to set up properly at the temps we are currently experiencing for good cut up] when I and my family will make it into meal sized pieces. The ham/bacon curing will start then as well and if there is any interest I would show a pictogram[or whatever you call this stuff as well].
My wife cooked up 10 pounds of roast beef, a two galoon pail of potatoes, half a row worth of peas/carrots and all the fixin's which this crew absolutely demolished. She was grinning from ear to ear watching the food disappear. When I asked how much I owed the the answer was, "Nothing cause what we learned here today should be taught in school and it was a lot more fun than what they teach too". Needless to say I'm proud of these younguns. Remember people when you complain about the new generation to ask yourself what you've done to teach them.
After we got everything cleaned up and the lads returned home to where I'm betting they are all sleeping, my boys and I still had the sausage casing to prepare.
We start by turning it inside out using water and gravity.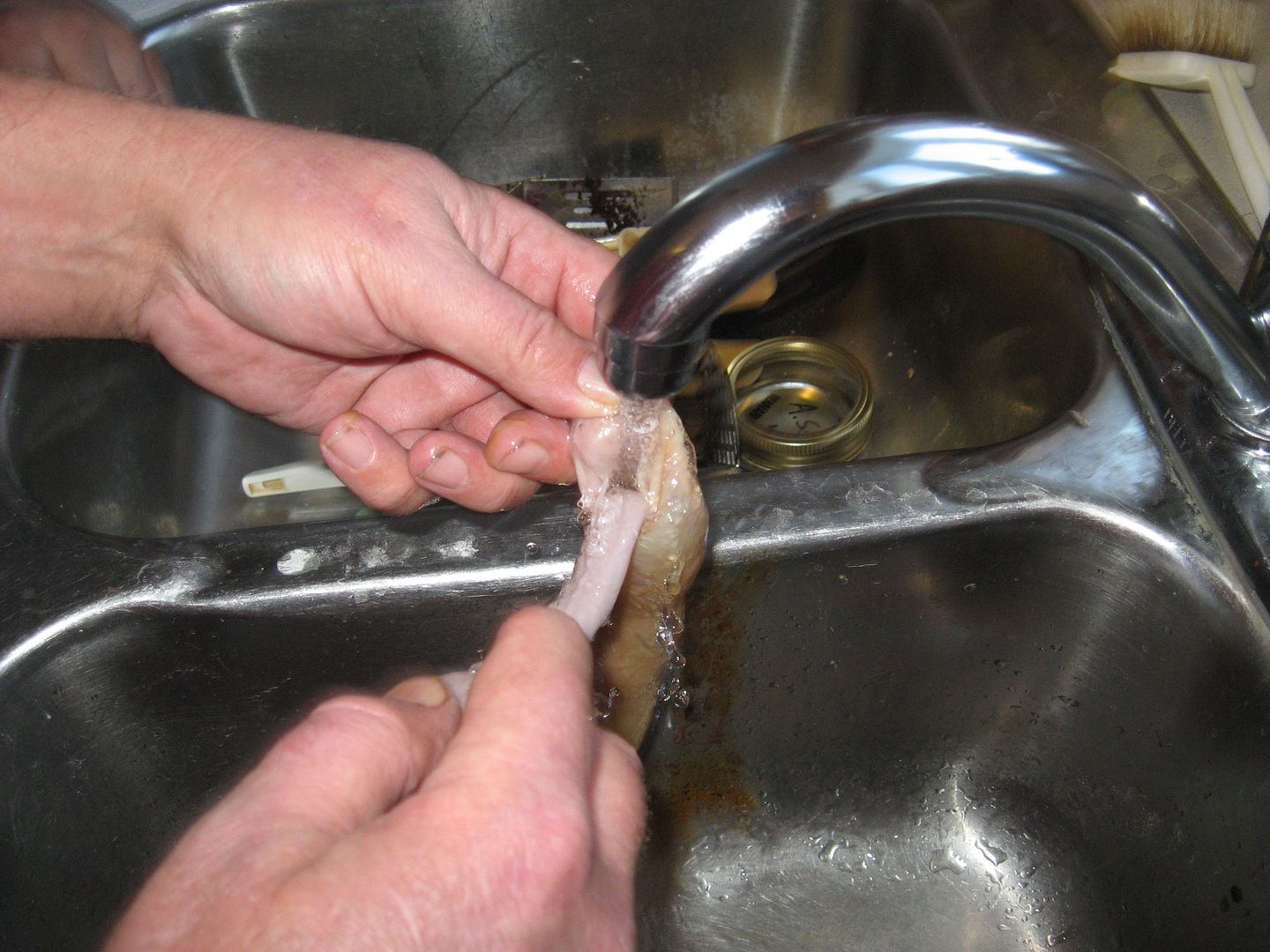 Then we scrape the stuff that removes the nutrients from food in the intestines[one of you smart people can tell us what it's called].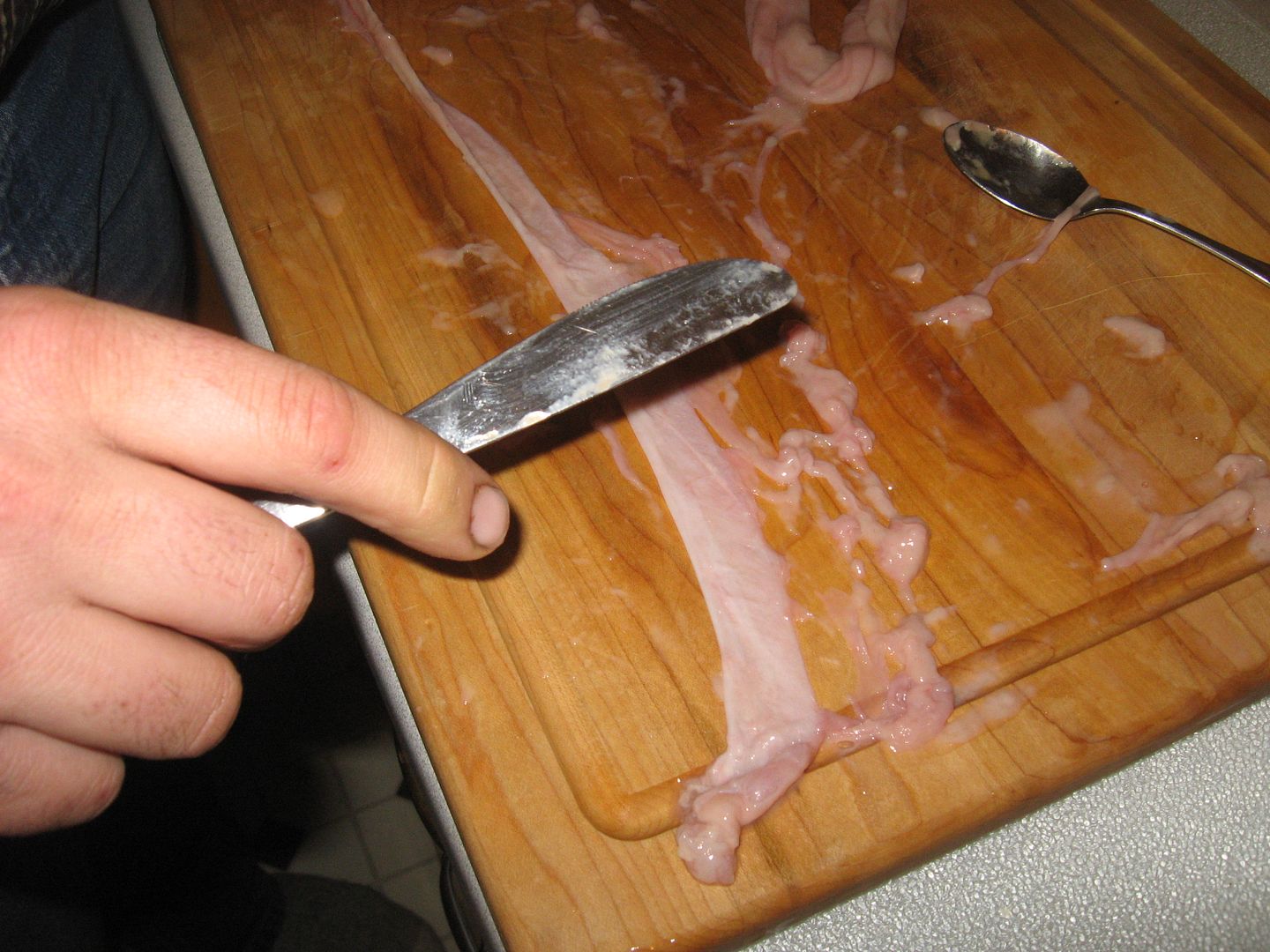 Trying to show the stuff that comes off.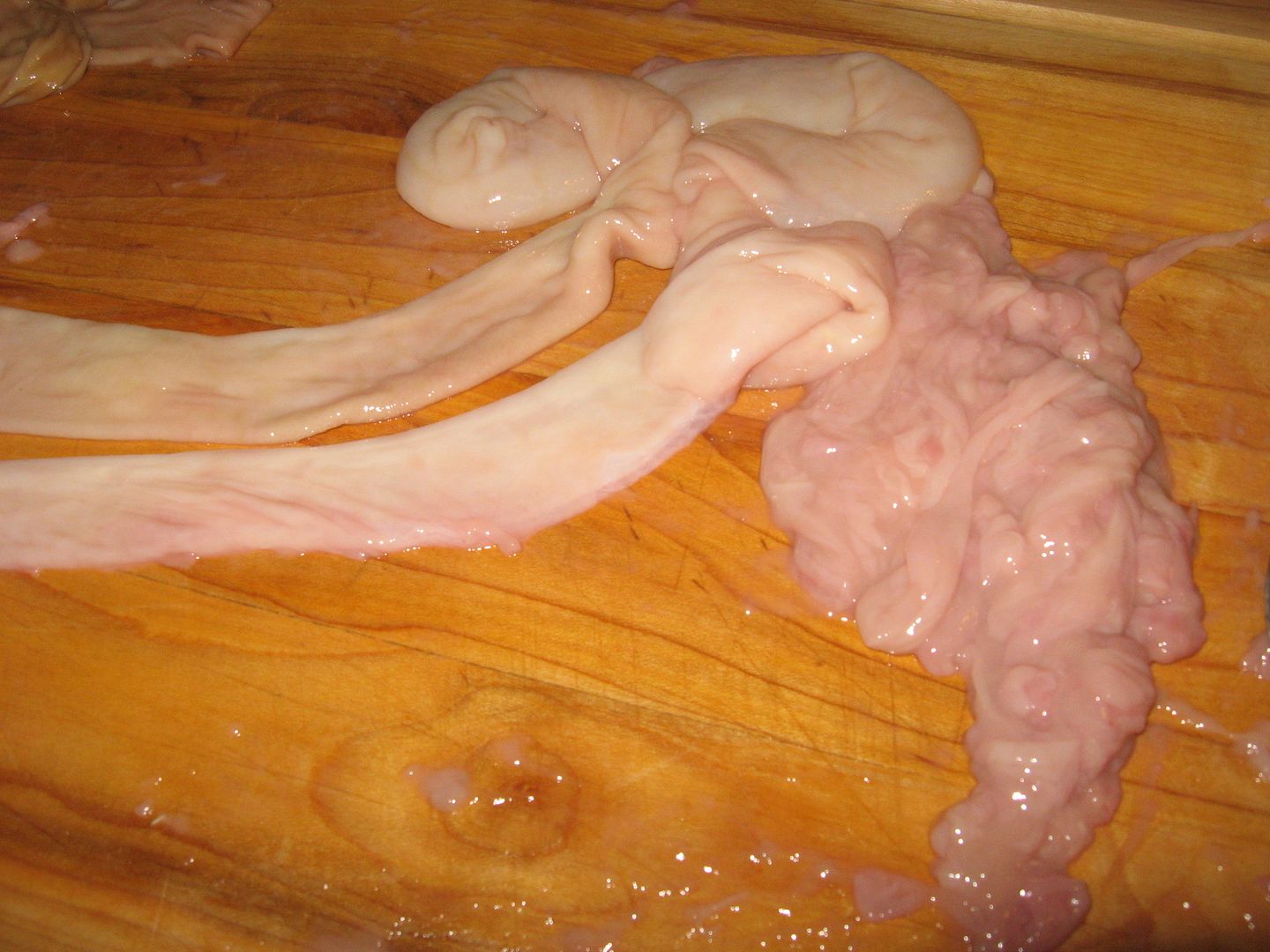 Yep they learn this too.
Finished[almost]
Salted and bagged for the freezer until we make the sausage.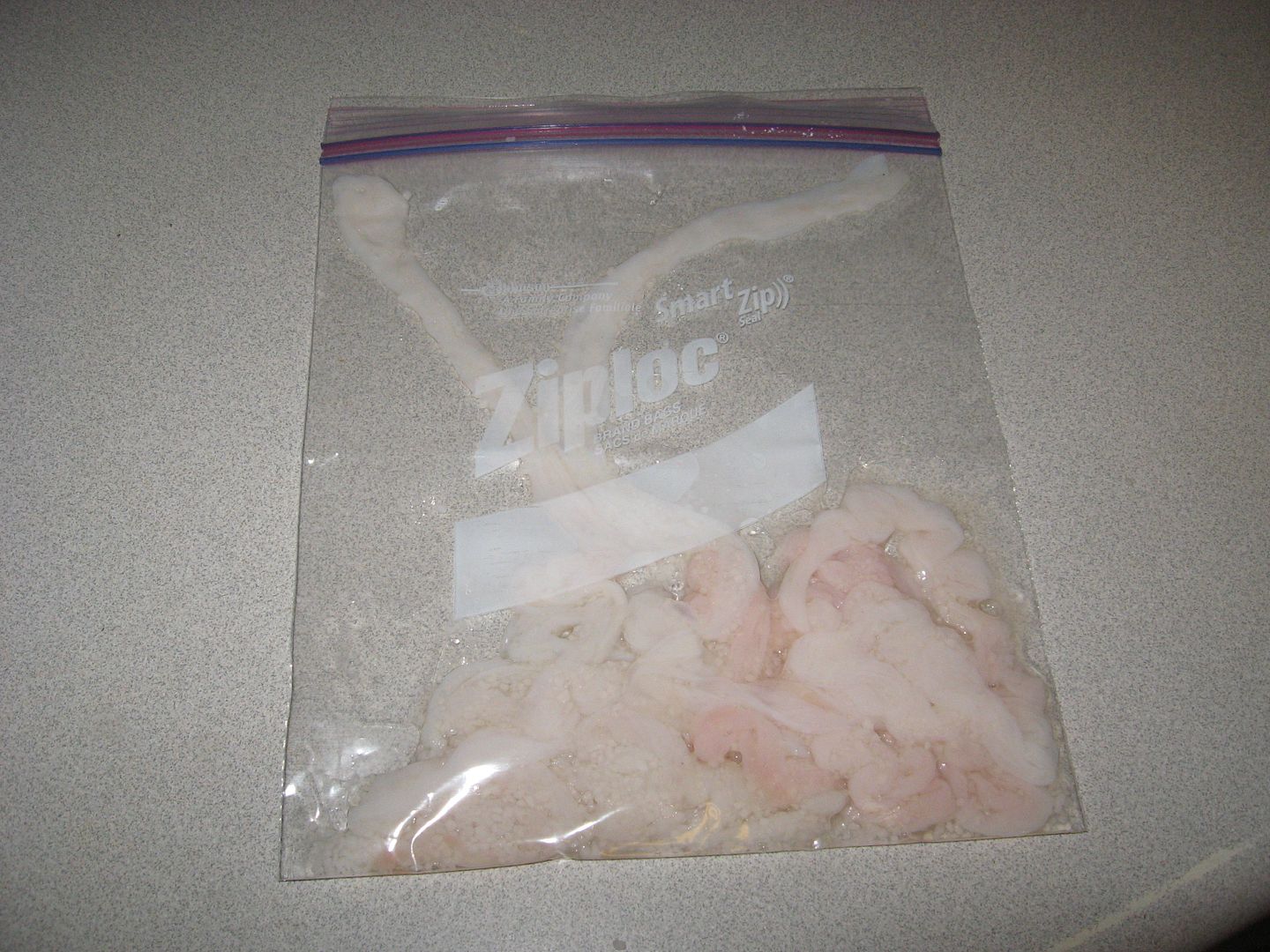 A picture of what the sky looked like at sunset cause it was beautiful.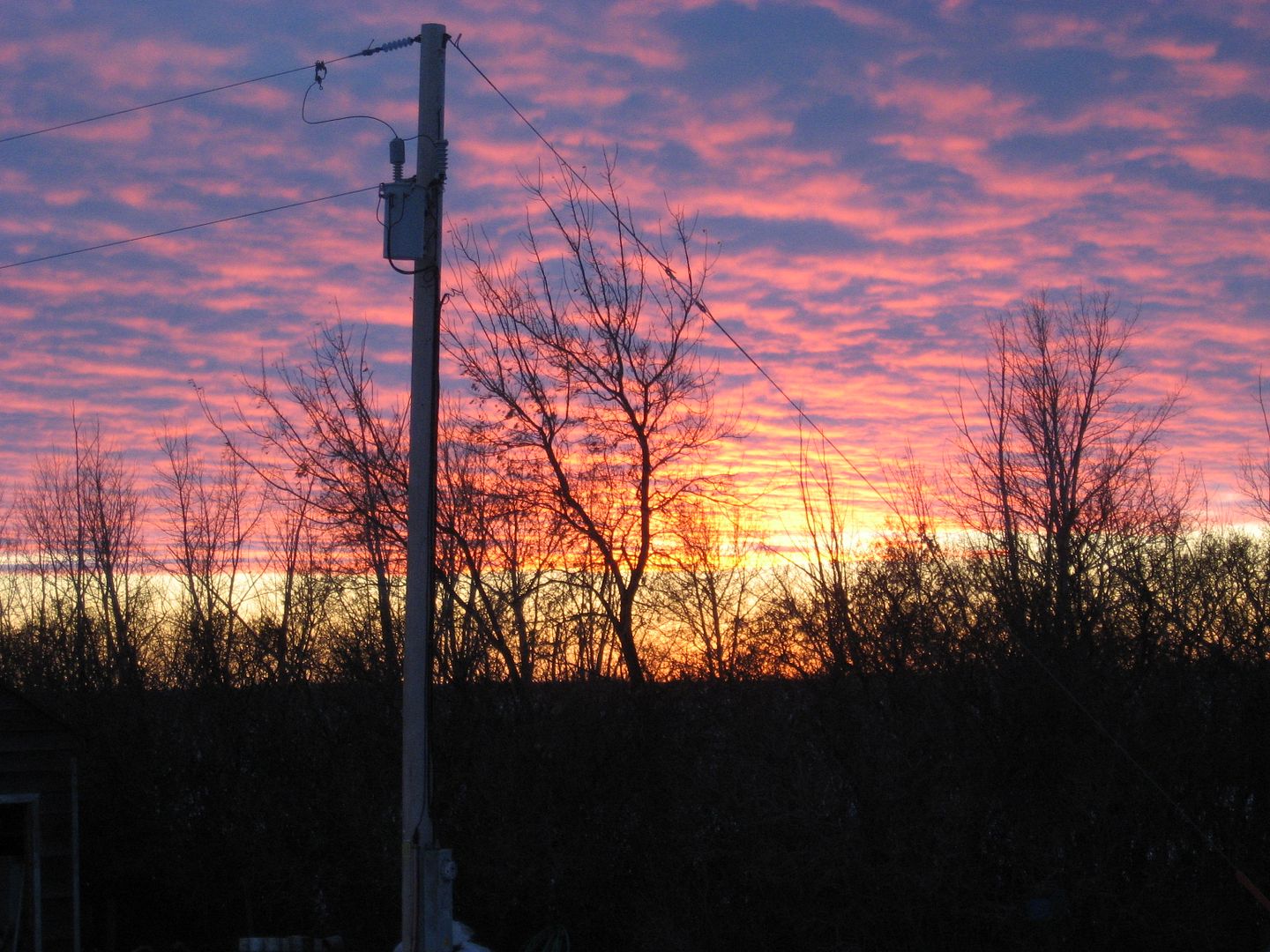 Sorry the post is so long.