Gold Member
Gold Chaser
Site Supporter
Joined

Dec 23, 2017
Messages

3,479
Likes

7,386
Location
Ain't Central Banking "wonderful?"
Venezuela's Hyperinflation Is Breaking Deli Scales
The price of a kilogram of ham is just too long.
By
Patricia Laya
March 14, 2018, 5:00 AM MST
Editor's Note: There are few places as chaotic or dangerous as Venezuela. "Life in Caracas" is a new series of short stories that seeks to capture the surreal quality of living in a land in total disarray.
"We don't have any."
Living in Venezuela, you get used to hearing that, but the story behind the missing ham was different. It's not that supermarket managers were having trouble finding enough to sell—the typical cause of shortages ravaging the country—they had decided to stop ordering it. The reason: After years of hyperinflation, the price is too long.
The store's deli scales run to only six digits. And ham, my Whatsapp food-hunting community tells me, is retailing nowadays for about 1,480,000 bolivars per kilogram. It didn't matter that I wanted only a few hundred milligrams. The cost was, at this market at least, incalculable.
A similar dynamic is impeding the use of credit and debit cards. The price of a set of sheets (33,541,963), a pair of Adidas sneakers (10,500,000) or even a slice of lasagna (401,450) can't fit on the screens of older card machines; the solution is to split one purchase into several transactions. Even the invoice printers that many businesses use for reports to tax authorities are running out of space.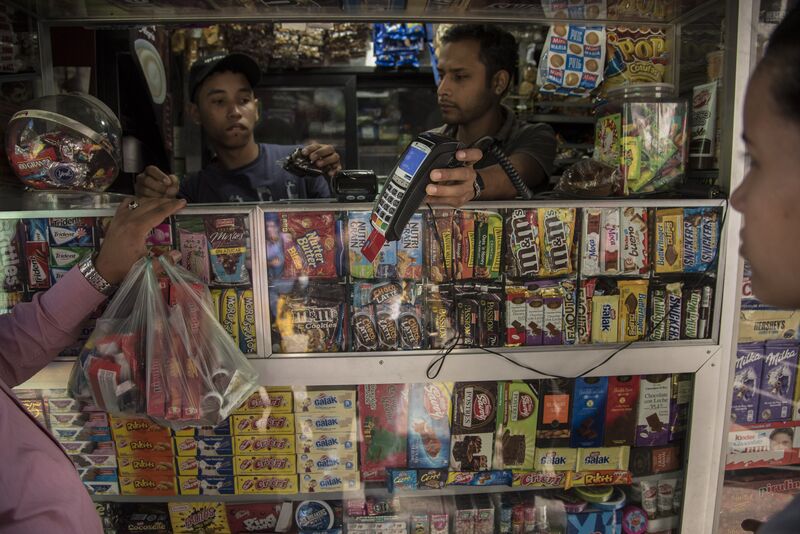 A customer pays for candy with a credit card at a stand in Caracas, Venezuela on Dec. 6, 2017. Even using a credit card has become a nuisance for what was once one of the world's strongest currencies.
Photographer: Carlos Becerra/Bloomberg
It would seem to be only a matter of time before the Maduro regime opts to reset the value of the currency to ease these logistical headaches. It's been 10 years since officials first tried such a move, lopping off three zeros and rebranding it "the strong bolivar."
That strength didn't last long. As the government cranked up printing presses to finance extravagant spending plans with fresh cash, inflation soared. There are no official figures but, by all accounts, prices are rising faster than ever. Bloomberg's gauge, the
Cafe Con Leche Index
, estimates that inflation has been running at an annualized pace of more than 82,000 percent over the past three months.
Back at the supermarket, the clerk told me they're trying to fix the scale so they know how much to charge. They'd better add a whole lot of digits.
https://www.bloomberg.com/view/arti...rtility-rates-lowers-risks-of-mass-starvation
.
.